Trailzilla Feel-Good Virtual 5K
/template-parts/post/content.php
Registration is open. Visit https://runsignup.com/Race/VA/Hampton/TrailzillaFeelGoodVirtual5K for details.
Visit Trailzilla Feel-Good Virtual 5K for details.
/template-parts/post/content.php
Hello fellow runners, volunteers, and PTC members!
I don't know about you, but for me time is both standing still and passing quickly. Today is the last Sunday of April 2020 and things certainly feel strange… I had thought Maria & I would be recovering from the Virginia 24-Hour Run for Cancer (Maria from running the ultra and me from volunteering/pacing). Although the race has been postponed to 7-8 November, 9 members of our 24-Hour team, "Team Wingnutz" ran a combined 293.5 miles yesterday, all in separate locations while practicing good social distancing. One member logged 15 miles, indoors… around his couch!
As we look towards May and wish we could be participating in our local races, I ask that we all continue to do our part to "stay home" and practice social distancing, while staying healthy and active. We'll all continue to monitor the guidelines put out by our Governor and the Virginia Department Health, while doing what we can to support our local businesses. While takeout/delivery isn't ideal for the social people that we are, at least our local restaurants can stay open and viable through these services.
Maria & I are looking forward to gatherings with friends and seeing our running friends at the races. As of today, the next PTC race and event on our calendar is the JoeZilla 5-Miler and PTC Annual Picnic, to be held July 11th, followed by the Coast Guard Day 5K on July 25th.

In the spirit of Joe Harney, please pray for our country, our elected officials, and our military. Please keep in your thoughts and prayers all of our medical personnel, caregivers, and first responders, who are putting themselves at risk every day.
Steve Peters, PTC President
/template-parts/post/content.php
Fellow runners and PTC Members, your PTC Board of Directors met "virtually" last night on "Google Hangouts."
Most of our discussions were about the impacts of COVID-19 on PTC races, meetings, activities… and our own lives. We learned that the City of Hampton will not meet to consider any June events, so our previously scheduled Trailzilla Fast 5K (10 June) and Trailzilla Feel Good 4-Miler (23 June) will not be held. We've also learned that the Riverwatch on the Piankatank 5K (20 June) has been canceled.
Here is the most current status of races:
4/18: (CRR) Run the D.O.G. St. 5K – Postponed (9/5)
4/25: Virginia 24-Hour Run for Cancer – Postponed (11/7)
5/2: Tabb May Day 5K – Canceled
5/9: Langley Race Around the Base 10-Miler – Canceled
5/16: Fox Hill Community 5K – Canceled
5/23: Elizabeth River Run 10K – Postponed (9/19-tentative)
5/25: Yorktown Freedom Run Memorial Day 8K – Canceled
5/30: Run for the Stage 5K – Virtual
6/10: Trailzilla Fast 5K – Canceled
6/23: Trailzilla Feel Good 4-Miler – Canceled
6/20: Riverwatch on the Piankatank 5K – Canceled
At this time we are certainly hoping to hold the Joe-Zilla 5-Miler and PTC Picnic on 11 July.
We'll also let you know as soon as possible on dates for the PTC Pub Run and our next Litter-Getter.
Additional information on these and other races and club activities will be posted on our website and Facebook. Our latest "On Your Mark" newsletter can be found at the "Newsletter" link at the top-right of the page.
Stay active, healthy, home, and "socially distanced."
Steve Peters
PTC President
Joe & Sue Moore Memorial Scholarship 5K "Virtual" Race
/template-parts/post/content.php
Hello! I hope you are all staying fit and healthy while practicing proper "Social Distancing." This morning would have been our annual Joe & Sue Moore Memorial Scholarship 5K. If you already registered don't forget to run your "Virtual" race and submit your time to Scholarship5KResults@hotmail.com by 30 April.
If you haven't yet registered but would like to, registration closes at midnight tonight, 28 March at https://runsignup.com/joesuemoorememorialscholarship5k.
Additional Gathering Size Recommendations
/template-parts/post/content.php
Fellow runners, I'm sure you are all diligently tracking the impacts of COVID-19 and the recommendations of the Centers for Disease Control and Prevention (CDC) and Virginia Department of Health (VDH). The attached message (dated 14 March) from the local governments for our Peninsula region urges residents to avoid gatherings of more than 50 people. The White House now recommends avoiding gatherings of more than 10 people and indicate the COVID-19 pandemic and impacts my last until August. Please stay safe, active, and in touch with each other as well as those most at risk.
Gatherings of more than 100 people temporarily banned in Virginia!
/template-parts/post/content.php
Fellow runners, this is the latest news. Obviously, when you combine runners and volunteers, nearly all of our races are >100 participants. We'll let you know race by race as much as we can. This may be for just a few weeks or possibly up to mid-May…
COVID-19 Impacts to Local Races
/template-parts/post/content.php
Fellow PTC Members, Runners, and Volunteers,
As you are all aware, due to the spread of COVID-19 there have been many postponed and cancelled events.
Please monitor all event websites or Facebook pages for updates. Most registered runners will receive an email on the status of events, but volunteers may not.
Locally, today's Ft. Eustis 10K Run/Ruck was postponed, as was the Virginia Fire Chiefs Foundation 5K (CRR); dates to be determined.
The upcoming Victory at York 10K/5K (4 April) is also postponed; date to be determined. The H.E.A.R.T. 5K (4 April) in Williamsburg is canceled.
This morning, the City of Hampton directed that the Joe & Sue Moore Memorial Scholarship 5K (28 March) be cancelled.
We will attempt to provide updates as we learn them. In the meantime stay safe, healthy, and fit… and check out the guidance/recommendations by the CDC.
Steve Peters
PTC President
Joe & Sue Moore Memorial Scholarship 5K Cancelled with "Virtual" race option
/template-parts/post/content.php
All, I regret to inform you that the Joe & Sue Moore Memorial Scholarship Race must be cancelled. Please see the attached from Danielle (Moore) Hundley regarding the planned "Virtual" race. As she states, this race directly benefits current high school seniors who may be eligible to apply for a PTC Scholarship. Your understanding is appreciated.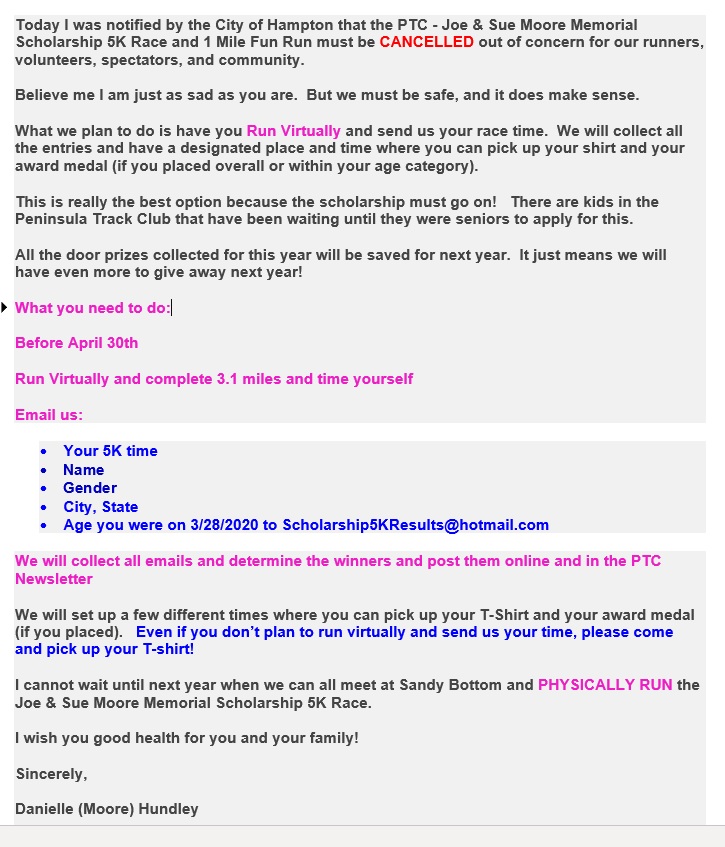 The Entire Sports World Has Turned Upside Down
/template-parts/post/content.php
From my Gazette article about the Swamp Run, a summary of all going on with area road races: 

By Rick Platt
In the final weekend before the entire sports world was turned upside down, the 19th annual Jamestown High School Swamp Run 5K had two exciting and competitive three-way battles for the top overall awards in the third Colonial Road Runners Grand Prix event of 2020. However, due to the coronavirus pandemic, that race will be the last CRR race for an indefinite period.
After the NBA, NHL, MLB and MLS suspended or delayed their seasons, and the NCAA cancelled the March Madness basketball tournament for both men and women, all divisions, as well as all other collegiate championship sporting events for the winter and spring seasons, it was inevitable that running events would be affected too.
In rapid fire, many local running events were cancelled or postponed (to a date to be determined later) on Thursday afternoon or Friday morning of this week, including the CRR Grand Prix's Virginia Fire Chiefs 5K Run, set for Saturday morning from the Bruton Parish Church on Duke of Gloucester Street, the CRR-affiliated Singletrack Maniac 50K and Cray Cray 10K, set for Freedom Park and the Hornsby Middle School on March 28th , and the CRR Grand Prix and Hampton Roads Super Grand Prix's Victory at Yorktown 10K on April 4th. After that, for other CRR Grand Prix spring races, no decisions have yet been made. Potential postponement dates are in June, August or September.
Beyond the CRR, Saturday's Fort Eustis 10K, a Peninsula Track Club event, was postponed to the fall. The PTC's H-E-A-R-T 5K, originally scheduled for April 4 from the Warhill Sports Complex in Williamsburg, has been postponed. And the biggest of them all, the Shamrock Sportsfest Marathon, half marathon and 8K, set for March 21-22 in Virginia Beach, was cancelled.
/template-parts/post/content.php
Keep clicking this link: