/template-parts/post/content.php
9th Annual 5K Run-Walk/1mile Walk and Family Day hosted by Healthy Suffolk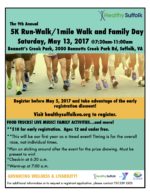 Healthy Suffolk will be hosting its 9th Annual 5K Run–Walk/1mile Walk and Family Day on Saturday, May 13, 2017 at Bennett's Creek Park from 7:30am–11:30am. This event will raise money for Healthy Suffolk's healthy eating, active living programs and initiatives such as Suffolk Moves.
The race will start and finish at Bennett's Creek Park, 3000 Bennetts Creek Park Rd, Suffolk, VA 23435. Early registration is available online at www.healthysuffolkva.org through May 5, 2017. Onsite registration starts at 6:00 a.m. and race warm up will begin at 7:00 a.m., rain or shine. Early registration is $10 for all participants under 12 and onsite registration is $15. Early registrants will receive an exclusive race day t-shirt. This will be an overall timed race. Timing is for the overall race, not individual times.
Family Day will kick off the Suffolk Park Hop, offer family activities, music and food trucks. Participants should plan to stick around after the event for prize drawings and must be present to win! All fitness levels welcome! This event is designed for the whole family to enjoy!
Healthy Suffolk,(formerly the Suffolk Partnership for a Healthy Community) is a 15+ year old non-profit, 501(c)(3) organization that works to advance wellness and livability for Suffolk. Healthy Suffolk's vision is for a healthy community where all people will be inspired and enabled to make healthy lifestyle choices, to use preventative health care and to access resources to live in a safe and wholesome environment.
For questions regarding the race contact Deborah Nadell at info@healthysuffolkva.org or 757.539.1525. For more information about Healthy Suffolk events and programs, please visit www.healthysuffolkva.org.