/template-parts/post/content.php
Click to view 2018 races:      Trailzilla 4 Miler        JoeZilla5Mall   
2018 Trailzilla 5K
Sandy Bottom Nature Park, Hampton, VA
Saturday, July 12, 2018 6:30 PM
Benefitting the Friends of Sandy Bottom
A PENINSULA TRACK CLUB EVENT
Place O'All Name Age City State Time
===== ===== ======================== === =================== =====
TOP OVERALL MEN
1 1 ED M RIETSCHA 39 HAMPTON VA 17:44 *
2 3 JACK LOVETT 48 YORKTOWN VA 18:53
3 4 CHRISTOPHER LAWS 42 YORKTOWN VA 19:42 *
4 5 DAVID ANDERSON 48 WILLIAMSBURG VA 19:51 *
5 7 CARTER FICKLEN 43 YORKTOWN VA 20:20
6 9 SCOTT BARTRAM 56 YORKTOWN VA 21:34 *
7 10 SCOTT YOUNG 33 NEWPORT NEWS VA 21:35
8 11 DREW LILLY 35 NEWPORT NEWS VA 21:37
TOP OVERALL WOMEN
1 2 KASANDRA AULENBACH 16 YORKTOWN VA 18:01
2 6 JENNIFER ANDERSON 37 POQUOSON VA 20:07 *
3 8 KATRYNA AULENBACH 14 YORKTOWN VA 21:31
4 14 GAYLIN HURT 23 WILLIAMSBURG VA 21:59
5 15 CONNIE GLUECK 54 WILLIAMSBURG VA 22:04 *
6 19 JESSICA ANDERSON 36 WILLIAMSBURG VA 22:45 *
7 25 MAYA GORTON 18 NEWPORT NEWS VA 24:07 *
8 26 JENNIFER CORNETTE 47 NEWPORT NEWS VA 24:08 *
MEN: Youth (19 AND UNDER)
1 20 JACK GORTON 12 NEWPORT NEWS VA 22:57 *
2 56 BRAXTON LEE 8 GLOUCESTER VA 28:05 *
3 60 BRYTON LEE 6 GLOUCESTER VA 29:20
4 79 GUS WINGENBACH 11 HAMPTON VA 36:02
5 86 PEYTON CRUM 13 HAMPTON VA 41:33 *
6 90 KENNY GRAUMAN 7 HAMPTON VA 53:12
MEN: 20 – 39
1 18 WALTER VICKHOUSE 36 HAMPTON VA 22:40
2 53 SETH EDDY 33 NORFOLK VA 27:55
3 65 BRANDON MCCRAY 24 NORFOLK VA 31:10
MEN: Masters (40 – 49)
1 12 STEVE PAUTLER 47 VIRGINIA BEACH VA 21:52
2 13 ANTONIO VIUDEZ-MORA 41 HAMPTON VA 21:57 *
3 24 JOHN GRAGG 46 PORTSMOUTH VA 23:57
4 28 BRYON WHITE 41 YORKTOWN VA 24:22
5 38 MARK KONST 49 NEWPORT NEWS VA 25:53 *
6 45 PAUL CLARK 49 HAMPTON VA 27:05
7 83 ROBERT MARTIN 48 NEWPORT NEWS MD 37:55
MEN: Seniors (50 AND OVER)
1 16 JOHN POFFENBARGER 50 HAMPTON VA 22:09
2 17 TIMOTHY WESTFALL 60 NORFOLK VA 22:29
3 21 DAVID MILBY 58 HARTFIELD VA 23:22 *
4 22 JOSEPH ROTH 52 YORKTOWN VA 23:47
5 23 ERIC WIEBKE 60 HAMPTON VA 23:50 *
6 27 RICK PLATT 67 WILLIAMSBURG VA 24:17 *
7 30 EDWARD RIETSCHA 57 YORKTOWN VA 24:52 *
8 32 RICK HARTUNG 64 HAMPTON VA 25:03 *
9 35 BILL RUSSELL 60 YORKTOWN VA 25:39 *
10 36 JOSEPH L VERDIRAME 68 SUFFOLK VA 25:44 *
11 37 STEVE AMARILLO 55 NEWPORT NEWS VA 25:45 *
12 39 MIKE LINGENFELTER 58 YORKTOWN VA 26:01
13 49 STEVEN PETERS 54 YORKTOWN VA 27:24 *
14 51 DEAN WEWETZER 59 NEWPORT NEWS VA 27:44 *
15 52 GEORGE W NELSEN 63 NEWPORT NEWS VA 27:52 *
16 55 MARK SWARRINGIM 50 NEWPORT NEWS VA 28:03
17 58 RONALD KELLUM 74 HAMPTON VA 28:43
18 62 DAN LOGAN 64 SUFFOLK VA 30:26
19 64 BRIAN SCHMITT 51 HAMPTON VA 31:07
20 71 KEVIN GIBBS 62 POQUOSON VA 33:15 *
21 84 LARRY "LT" TURNER 75 SEAFORD VA 39:21 *
22 85 RICK WEBB 60 YORKTOWN VA 40:12 *
23 88 BOB CURTIN JR 65 HAMPTON VA 43:24 *
WOMEN: Youth (19 AND UNDER)
1 29 GAPHNE GLUECK 19 WILLIAMSBURG VA 24:28 *
2 54 BROOKE SWARRINGIM 12 NEWPORT NEWS VA 27:56
3 72 CAMPBELL ANDERSON 5 HAMPTON VA 33:30 *
4 76 PARKER ANDERSON 8 HAMPTON VA 35:26
5 82 FINLEY ANDERSON 7 POQUOSON VA 36:49
WOMEN: 20 – 39
1 31 JAIME LAWSON 36 HAMPTON VA 24:56 *
2 34 LIANE ZIVITSKI 39 NEWPORT NEWS VA 25:31
3 40 MARY HALL 36 GLOUCESTER VA 26:04
4 42 AMANDA COLLIER 38 YORKTOWN VA 26:37 *
5 43 VERONICA WARWICK 31 POQUOSON VA 26:39
6 57 JENNIFER LITTLE 38 YORKTOWN VA 28:11 *
7 59 LIZ YOUNG 32 NEWPORT NEWS VA 29:03
8 66 ELIZABETH MILLER 23 NORFOLK VA 31:10
9 75 CAROLSUE MCGEHEE 39 VIRGINIA BEACH VA 35:12
10 77 JESSICA TEMPLETON 34 HAMPTON VA 35:27
11 78 TAYLOR COLEMAN 25 GLOUCESTER VA 35:36
WOMEN: Masters (40 – 49)
1 47 MARY BROWN 49 HAMPTON VA 27:15 *
2 67 SHERRY PARSONS 47 GLOUCESTER VA 31:14
3 68 MARIA RAMIREZ-GORTON 47 NEWPORT NEWS VA 32:13 *
4 73 MADDINENI SRIDEVI 41 YORKTOWN VA 34:56
5 80 MELISSA CARMINES 45 YORKTOWN VA 36:39
6 87 KAREN SANZO 41 HAMPTON VA 41:34 *
WOMEN: Seniors (50 AND OVER)
1 33 GABRIELE LINGENFELTER 55 YORKTOWN VA 25:30
2 41 CAROL GRANTZ 52 PORTSMOUTH VA 26:23
3 44 MAGDALENE TALLEY 63 TOANO VA 26:43
4 46 MARIA PETERS 53 YORKTOWN VA 27:11 *
5 48 HELEN WORTHINGTON 63 BENA VA 27:16 *
6 50 CAROL BARTRAM 54 YORKTOWN VA 27:40 *
7 63 ANGELA SCHMITT 55 HAMPTON VA 31:06 *
8 69 SHEILA WASHINGTON 54 HAMPTON VA 32:36
9 70 MARY GIBBS 59 POQUOSON VA 33:14 *
10 74 SUSAN CANEDY 63 HAMPTON VA 35:10
11 81 LINDA HOLMES 53 HAMPTON VA 36:49
12 89 KAREN SCHENCK 63 ARK VA 46:13 *
* denotes PTC member
Tue., June 12 – 6:30 p.m.
Trailzilla 5K
Sandy Bottom Park
Hampton, VA
Two ways to sign up:
or
---
---
Last year's 5K course was an out and back  through the interior of the park.  This year will be very similar.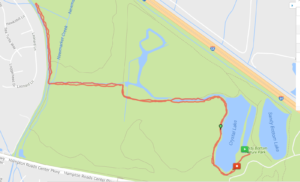 ---
This is a Peninsula Track Club Race that benefits The Friends of Sandy Bottom Park.
Contact: Thea Ganoe (757) 272-2927; e-mail = theaellen@hotmail.com
---
Join us after the race Gus's New York Pizza in Hampton, for $1 beers and $10 large Pizzas.
 http://www.gussnewyorkpizza.com/hampton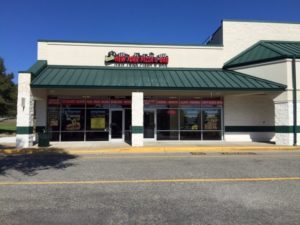 ---
We'd like to thank our sponsers:
Games Farmers Market http://www.gamesmarket.biz