Click for Results:  All Runners–RR5Kall,   Award Winners- RR5Kwin
The 25th Annual Riverside Rehab 5K by the Bay held at the Riverside Rehabilitation Institute in Newport News on Saturday morning, May 2, 2015. The race was organized by the Riverside Rehabilitation Institute with proceeds benefiting the Riverside Rehabilitation Institute Giving Fund.
The race started at Petersen's Yacht Basin and followed Chesapeake Ave with a turnaround trough the neighborhood near the Newport News/Hampton City Line. The finish was back at the Riverside Rehab facility. Conditions at race time were ideal for running – sunny with temperatures in the 50s and a slight breeze.
548 runners entered the 5K (up from 408 in 2014) with 470 runners and walkers completing the course in the one hour time limit (up from 337 in 2014). The 5K by the Bay course is USATF certified VA10022RT and the course was run as certified by the runners. Awards were given to the top 3 overall male and female runners, top 3 in each age group, top 3 Wheelchair racers, Top 3 male and female walkers with additional awards given to the top finishers who were Riverside employees. The Riverside Rehab 5K by the Bay was also the 4th race in the 12 race 2015 PTC Grand Prix.
Finish line and results services were provided by the Peninsula Track Club. A copy of the results, links to pictures and listings for future races can be found on the PTC website: www.peninsulatrackclub.com.
The overall Male winner was Trevor Cable, 31 of Williamsbur in a time of 16:25 (5:17 pace), just 17 seconds shy of the age group record for Men 30-34 of 16:08 set by Rob Hinkle in 1999. For the Women, 1st Overall was Lydia Wilson, 18 of Smithfield in a time of 20:57, 28 seconds off the Women 15-19 record of 20:31 set by Kristina Woodard in 2009.
Two new age group records were set at the 25th running of the 5K by the Bay. Stephen Chantry, 60 of Williamsburg set a new age group record for Men 60-64 with a time of 18:39, surpassing the mark of 19:24 set by Robert Wright in 2001. For the women, Judy Hanna, 71 of Williamsburg established the age group record for Women 70-74 with a time of 35:54.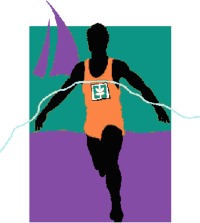 Sat., May 2 – 9 a.m.
Riverside Rehab 5K by the Bay
Peterson's Yacht Basin, Newport News, Va. Course certified – USATF cert. VA10022RT
Directions:  From Interstate 64: Exit 264 to I-664 South.  Take Exit 3, Aberdeen Road and turn left at traffic light at bottom of ramp.  Pass through 3 traffic lights and turn right onto 19th Street.  Continue to Walnut Avenue.  Parking is at Peterson Yacht Basin.
RECORDS:   Riverside Rehab 5K by the Bay Course Records
contact – David Lassiter – (757) 534-9603
e-mail – David.Lassiter@rivhs.com