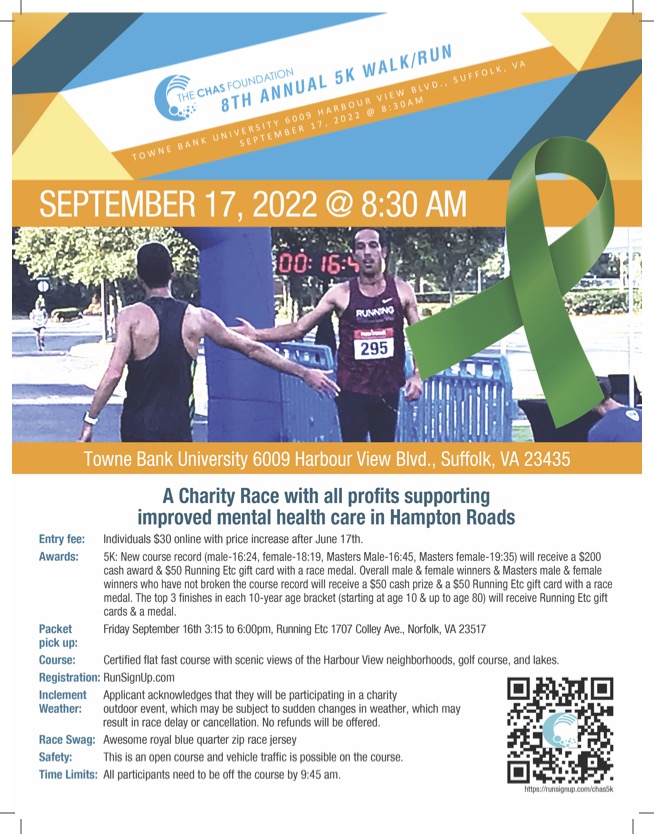 A Charity Race with all profits supporting
improved mental health care in Hampton Roads
Individuals $30 online with price increase after June 17th.
5K: New course record (male-16:24, female-18:19, Masters Male-16:45, Masters female-19:35) will receive a $200
cash award & S50 Running Etc gift card with a race medal. Overall male & female winners & Masters male & female
winners who have not broken the course record will receive a $50 cash prize & a S50 Running Etc gift card with a race
medal. The top 3 finishes in each 10-year age bracket (starting at age 10 & up to age 80) will receive Running Etc gift
cards & a medal.
Friday September 16th 3:15 to 6:00pm, Running Etc 1707 Colley Ave., Norfolk, VA 23517
Packet
pick up:
Course:
Certified flat fast course with scenic views of the Harbour View neighborhoods, golf course, and lakes.
Registration: RunSignUp.com
Inclement
Applicant acknowledges that they will be participating in a charity
Weather:
outdoor event, which may be subject to sudden changes in weather, which may
result in race delay or cancellation. No refunds will be offered.
Race Swag: Awesome royal blue quarter zip race jersey
Safety:
This is an open course and vehicle traffic is possible on the course.
Time Limits: All participants need to be off the course by 9:45 am.